Growth Designer Sep 2021 - Present
Services: Creative Strategy, Brand Deign, Channel Designs (Paid Social, Display, Email, In-App), Rapid Experimentations
Background

Public.com is an investing platform that allows people to invest in stocks, ETFs, treasuries, crypto, art, collectibles, and more – all in one place. We're on the mission to make the public markets work for all people.

Public's platform helps people be better investors with access to custom company metrics, live shows about the markets, and real-time analysis. Members control how they invest with a suite of powerful tools and get insights from
 a community of millions of investors, creators, and analysts.




Testing, testing, and more testing to unlock Public's paid social potentials.
Since I joined as the dedicated designer to create assets for the Growth Marketing team, I worked closely with Brand Marketing, User Acquisition, Life Cycle, Product, and Compliance teams to deliver and optimize creatives for all audiences across performance marketing channels. In addition, I lead creative optimization testing roadmaps for evergreen campaigns and manage a small team of contractors and agencies to ensure complete and up to standard deliverables.
Treasuries Ads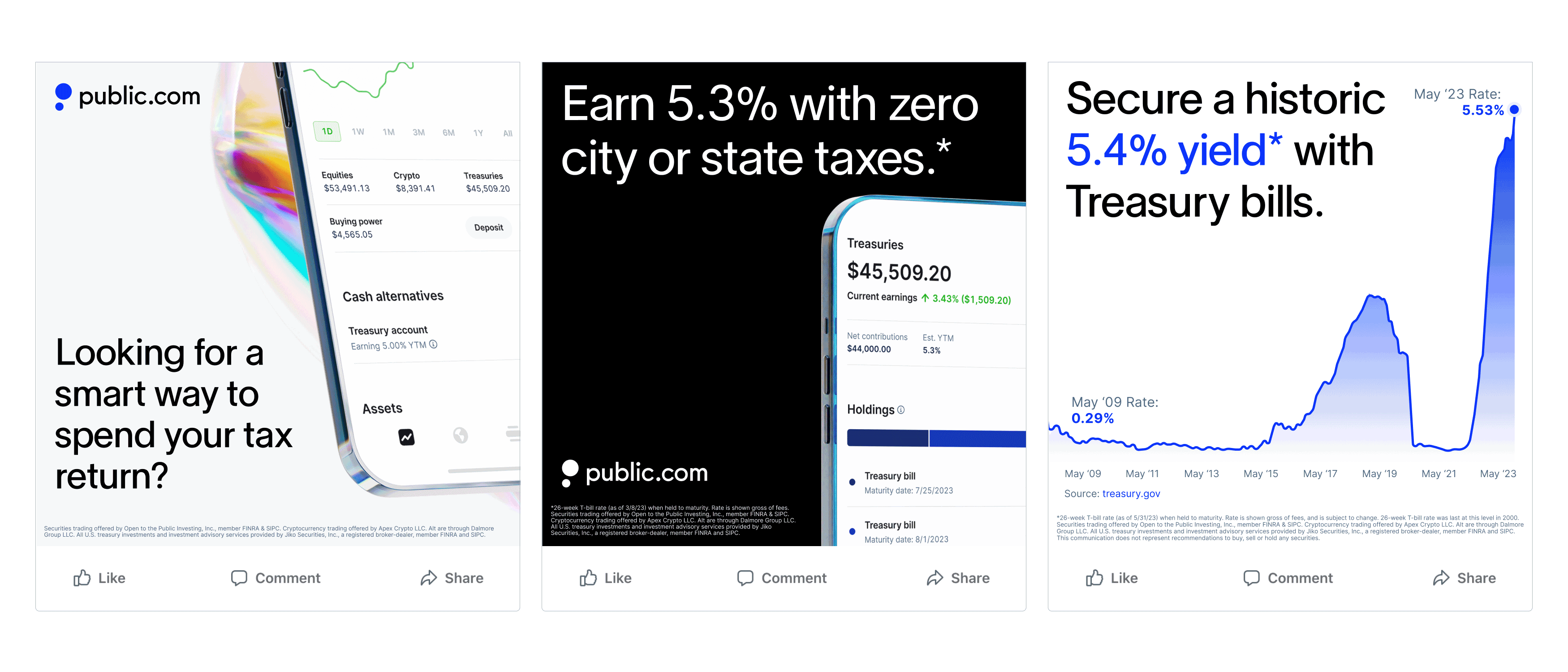 New Year Resolution Ads | Single Messaging Tests
winner
lowest Cost-Per-Funded-Account / highest Click-Through-Rate
Creator Landing Page | CTA Tests
Crafting and tracking creative experiments to make data driven design decisions.
Aside from the User Acquisition arm within the Growth Marketing team, I work closely with the Life Cycle team focusing on converting new users into long-term investors on Public. I am responsible for improving conversion rates with design optimizations through the different funnel using a variety of channels, including email marketing, in-app-messaging, and more.
Portfolio Snapshot | Weekly Email

Every Friday, Public users would receive a portfolio snapshot emal highlighting all the changes to the different assets they own. Working with the Lifecycle team along an external vendor, I designed a new email template that is not only more straightforward, but also highlighting useful information such as relevant articles to each asset.




Treasuries | Launch Flow



Public Premium | Welcome Flow
Crypto in New York | Announcement